Category Archives:
Chocolate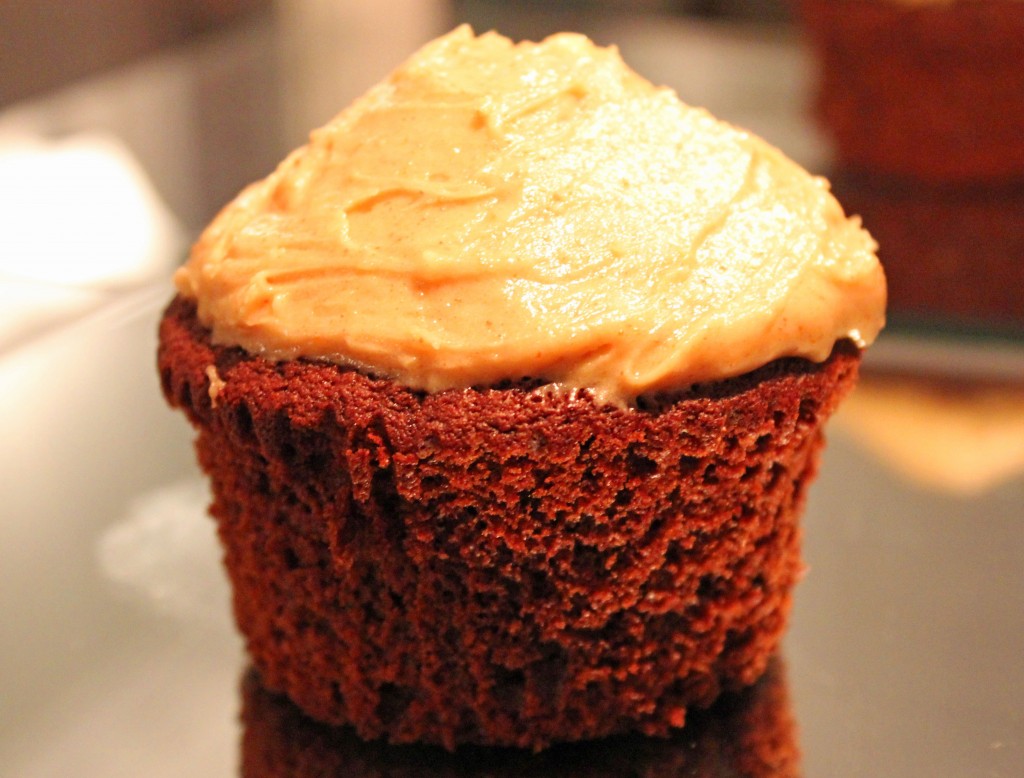 Sweet Chocolate Cupcakes with Peanut Butter Frosting!
It's Halloween and the kids are begging for treats, so what better than a chocolate cupcake with peanut butter frosting! We've made this a healthier choice by using coconut oil, 70% dark chocolate, whole wheat flour, stevia and apple sauce instead of butter, semisweet chocolate chips, granulated sugar and eggs. If you are vegan you can swop the sour cream with a natural soy yoghurt

Cupcakes:
8 Tbsp Coconut Oil
2 ounces Organic Ecuador 70% dark chocolate (or any other dark chocolate you prefer)
½ Cup Organic Dark Cocoa Powder
¾ Cup White Whole Wheat flour (or all purpose flour)
½ tsp Baking soda
¾ tsp Baking powder
1/2 Cup Apple Sauce (equals 2 eggs)
¾ cup Stevia
1 tsp Vanilla extract
½ tsp table salt
½ Cup Organic Sour Cream
Peanut Butter Frosting: (warning super sweet! but oh so good)
1 Cup Organic Confectioner Sugar
1 Cup Organic Creamy Peanut-butter
5 Tbsp Coconut Oil room temperature
¾ tsp Vanilla extract
¼ tsp Kosher salt
⅓ Cup Organic Heavy Cream (or ⅓ cup thick coconut milk, only the solid milk not the liquid)
Prep:
1. Preheat the oven to 350 F (177 C)
2. Combine coconut oil, chocolate and cocoa powder in a heat proof bowl and using the water bath method heat until the chocolate and coconut oil has melted. Remove from heat and whisk until smooth. Set aside to cool until just warm to touch.
3. In a separate bowl whisk together flour, baking soda and baking powder together, set aside.
4. Now use your stand mixer and whisk apple sauce, sugar, vanilla, and salt until fully incorporated. Add the cooled chocolate to the mix and blend until combined. Sift 1/3 of the flour to the mix and stir until combined. Now add the chocolate mix to the batter and blend until combined, then add the sour cream and blend well. Lastly add the rest of the flour until the batter is fluffy and thick.
5. Divide the batter evenly into 16 medium sized muffin cups or 8 large muffin cups. Bake at lower-middle position for about 15-18 minutes or until skewer inserted into center of cupcakes comes out clean.
6. Place the cupcakes on a wire rack to cool. You want the cupcakes to be completely cooled if you are decorating them with frosting.
Note:
Now if you're not looking for the healthy version this is what you need to change:
8 Tbsp Coconut oil = 8 Tbsp unsalted Butter
Ecuador Chocolate = Semisweet chocolate
½ Cup Organic Dark Cocoa powder = ½ Cup Dutch-processed Cocoa powder
¾ Cup White Whole Wheat flour = ¾ Cup All Purpose Flour
1/2 Cup Apple Sauce = 2 Eggs
¾ cup Stevia = ¾ cup granulated Sugar
5 Tbsp Coconut Oil = 5 Tbsp Butter
Frosting:
Using a stand mixer, blend the confectioner sugar, peanut butter, coconut oil, vanilla and salt. Mix at medium speed until mixture creamy, you will have to scrape down the sides a few times. Add the cream and beat on high speed until the mixture is light and smooth.
Decorate you cupcakes and Enjoy!